Next To Normal
I was hired by Mixed Blood Theatre for their 2012 production of 2010 Pulitzer Prize winning musical drama, Next to Normal.
Working with Artistic Director Jack Reuler, I integrated 25 minutes of original video content with a live video playback system to bring to life the ghost of the family's dead son.
Now in its 40th season, Mixed Blood Theatre is dedicated to creating socially and culturally relevant works that support their mission to "champion equity and animate social change."
Produced and performed at Mixed Blood Theatre in Minneapolis Minnesota.
I was responsible for the design of media content, system design, production, programing, projection. I devised a two-channel blended projection system withlive video feed programmed with Watchout.
Photo by Rich Ryan
Next to Normal
A moment in the scene where Diana Goodman undergoes electroshock therapy.
Photo by Rich Ryan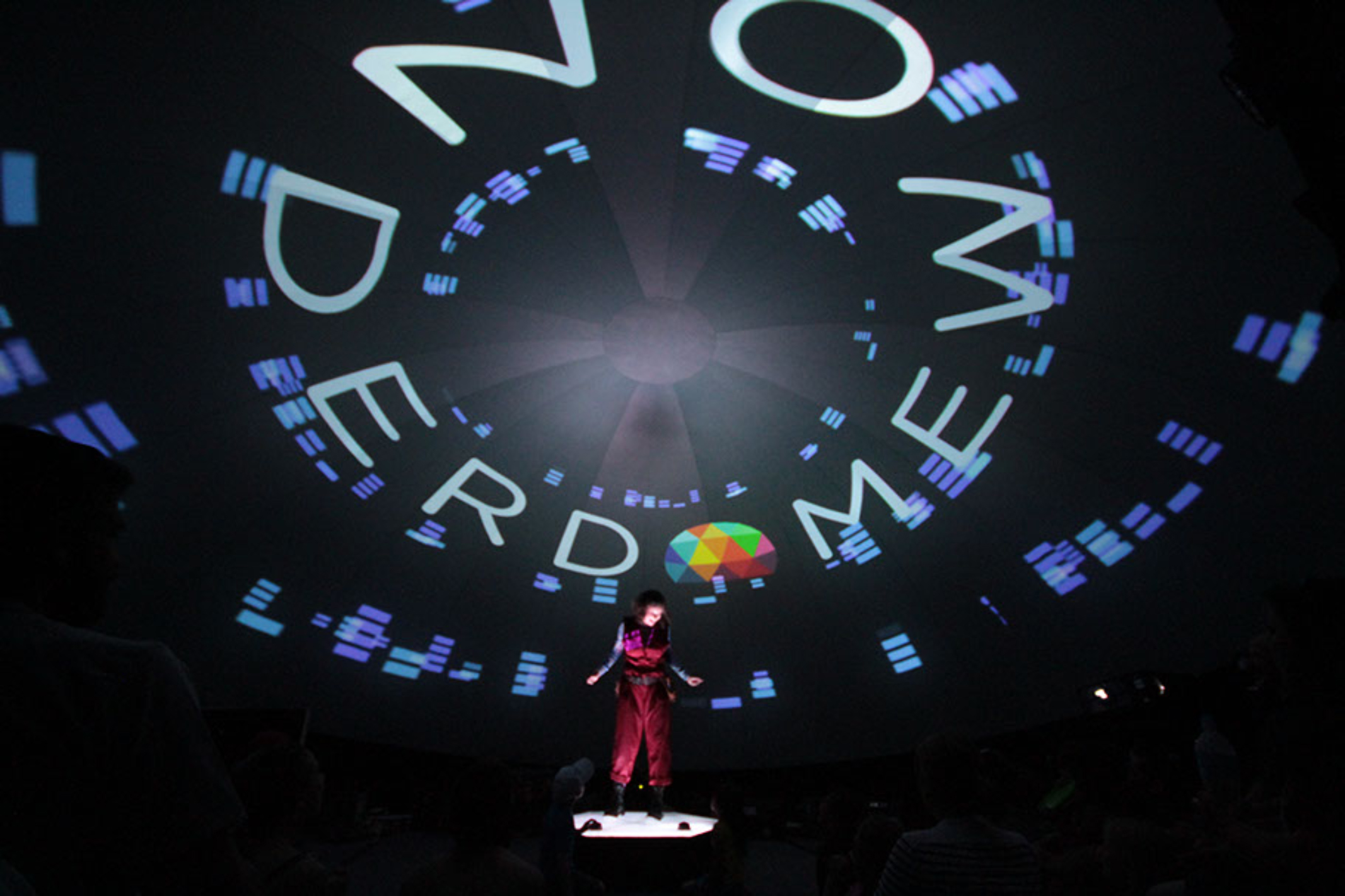 Wonder Dome
As the lead media designer for the research team that collaborated in the creation of the interactive system for The Wonder Dome, I was responsible for content and digital puppet design for the Dome's premier children's play, "Leo-the-Geodesic Dome."
Wonder Dome is an advanced system design for theatrical performance. The Isadora-based system I designed allows for the simultaneous cuing and automated updating of design elements with qualities shared between video, sound, and lighting design including hard and soft cue triggers, dynamic placement, animated locations of avatars and assets, and automated color matching between LED intelligent lights and video assets.
The Wonder Dome incorporates Isadora, Touch Designer, MAX, Ableton Live, along with customized telepresence, audio, facial tracking, and OSC message routing capabilities into a modular and interworking performance system.
Wonder Dome was featured at the Mesa Arts Center's Spark Festival and ASU's Emerge festival in 2014.
The Wonder Dome is a cross-university project between:
Arizona State University and The Ohio State University

ASU || The School of Film, Dance and Theatre
ASU || School of Arts, Media and Engineering
ASU || The Center for Science and Imagination
ASU || The Pave Program in Arts Entrepreneurship
OSU || Advanced Computing Center for the Arts and Design
OSU || Department of Theatre
Sponsored by:
BARCO || NVIDIA || PACIFIC DOMES INTERNATIONAL || VORTEX IMMERSION MEDIA
Wonder Dome: Digital Avatar
Pictured here is the facial tracking system (left image) that I developed to allow real-time animation of the digital avatar Leo (right image). The performer was provided with monitors showing the digital avatar as well as an overview of the audience in the main dome.
Wonder Dome represents a highly advanced system and performance space capable of adhering to standard professional theatrical rehearsal and production timelines. To aid rapid cuing, we designed a real-time warping method that allows direct previewing of unrendered video on the walls of the dome.
This is an excellent example of the theatrical designs that I create in collaboration with colleagues in OSU's Departments of Theatre and ACCAD.
The Beach
One of the specialized features of The Wonder Dome system is the ability to control the color output of the LED lights to match or enhance live or prerecorded video projections.
In this example, the LED lighting matches the warm yellow of the sun. Moments later, as the projected image immerses the audience beneath the ocean, the lighting turns blue and flickers in synchronization with the waves that cover the surface of the dome.
Wonder Dome System Schematic
This schematic is typical of my process when designing both equipment connectivity and the location of and interfaces for operators. Ultimately, I enjoy designing both the audience facing content as well as display systems that specialize in interactivity and use in a traditional theatrical rehearsal and production process.
The facial tracking system was located in a tent next to the main Dome. An array of cameras and microphones enabled the performer to see and hear the audience, which allowed her to react dynamically as she gauged their response to the avatar.
Architectural Protection: OSU's South Chiller Plant
I collaborated with faculty and staff from the Knowlton School of Architecture, College of Engineering, and Department Theatre, and the Advanced Computing Center for the Arts and Design (ACCAD) on a projection project. In this class we mentored a dozen advanced undergraduate and graduate Architecture and Theatre students working in partnership with the OSU Facilities Operations and Development team to create a state-of-the art lighting display that was projected on the north façade of the 60' tall South Campus Central Chiller Plant.
I taught an interdisciplinary team of students techniques for video mapping and methods of content creation. To simulate the installation ahead of the actual event, I introduced preplanning and visualization techniques using small projectors to cast images on scaled 3D-printed models of the Chiller Plant. The students worked together to create images and program a video imagining the operation of the plant. The video was projected onto the side of OSU's South Chiller Plant on several evenings in the fall of 2013.
I was responsible for technical aspects of projection, system design, server programming, and training. This was a two-channel blended system programmed with Watchout.
This is a link to an article on the installation published in The Lantern, OSU's student newspaper:
http://thelantern.com/2013/11/ohio-state-student-project-illuminate-campus-building/
The Visit
For OSU's production of Friedrich Dürrenmatt's 1956 tragicomic play, I was responsible for the overall media design, including system design, content design, content production, and programming. I devised a three-channel blended projection system with a live camera programmed in Wings Platinum to project images of arriving and departing trains as well as the live television broadcasts that were substituted for the radio broadcasts called for in the original script.
In this sequence, the reflection of a train is projected on the performers and the stage.
Directed by Lesley Ferris, OSU Arts & Humanities Distinguished Professor
Photo by Mathew Hazard
The Visit
Our update to this play included altering some of the text and substituting a live television broadcast for the live radio broadcast.
Produced by Ohio State University's Department of Theatre
Directed by Lesley Ferris, OSU Arts & Humanities Distinguished Professor
Written by Friedrich Dürrenmatt
Photo by Mathew Hazard
There Is No Silence
I collaborated for over two years with Director Jeanine Thompson, OSU Associate Professor and Movement Theatre Specialist, and Vita Berezina-Blackburn, OSU Animation and Motion Capture Specialist, in the creation of the new work There Is No Silence. This project is an example of my work that crosses between theatre and experiential media design.
I designed a two-channel front and rear blended projection system programmed with Isadora that enabled mixing prerecorded content with the live video feed from a real-time motion capture system driven by performers on stage.
In this image, Sarah Ware is portraying Marcel Marceau's signature character Bip on a visit to New York City. Her movements at stage level were mimicked in real-time by the animated avatar on the upper screen.
"I Want To Wear White Face"
Working closely with this performer/deviser, the media team helped make invisible emotions and memories visible and audible.
The media in this scene is prerecorded but cued live to allow for idiosyncrasies in the performance and possible last-minute changes in choreography.
I used the Isadora media server programming language to create a scene-specific cuing interface that supported the performer's devising process and the technical rehearsal and cuing timeline and process.
NB: In this archival video, not all the animations are clearly visible due the scene's extreme contrast and the camera's exposure settings.
Animation by Steven Conroy
Performer/Deviser: Sifiso Mazibuko
There Is No Silence: The Rehearsal Hall
This was the technical rehearsal setup we used while learning how to stage and cue the show. Eventually equipment was moved into traditional positions in the Tech Booth.
From left to right:
1. "Blade House Monitor" showing the Blade motion capture server located backstage (pictured inset)
2. Projector control laptop: Projector On/Off, calibration, etc.
3. Waltz display 2: Motionbuilder live video output
4. Tango display 1: Motionbuilder interface
5. Tango display 2: Motionbuilder live video output
6. MacBook Pro (MBP) / Display 1: video-in monitoring from Waltz and Tango
7. MBP Thunderbolt display 3 programming interface
8. MBP display 2: Isadora stage 1
9. Apple TV: Isadora stage 2
not shown: Waltz display #2 with Motionbuilder Interface
There Is No Silence: A Duet with Marcel Marceau
In this scene, the performer Patrick Wiabel describes his process of devising a short duet with Marcel Marceau.
I designed a media system to assist in the movement training aspects of our devising and rehearsal process. This scene was inspired from the performer and director's work with that system.
This motion capture data is part of the Jerome Lawrence and Robert E. Lee Theatre Research Institute's Marcel Marceau American Collection.
NB: This video has been manipulated to increase the exposure of the upper screen to enhance the visibility of the projections in the recording and does not exactly represent performance conditions.
Marceau Marcel Training Setup
Beyond executing the Marcel project as a theatrical design, I was inspired by a teaching-based research question: How might the motion capture information be presented to the performers in rehearsal?
I designed this 360-degree immersive visualization set of the "At the Bar" motion capture data to enhance the performer's ability to see and rehearse with a mirror image of Marceau's animated form from four directions.
In response to student feedback, I enhanced the system to project a larger-than-life image of their animated form. Another popular feature allowed students to request adjustments in the playback speed, which helped clarify their perception of the movements as they studied them through embodiment.
System Diagram
This is a quick sketch of the system I designed and programmed to cue There Is No Silence.
Some of the scenes required quick switching between two different real-time motion-capture-driven animation environments. The Motionbuilder software used to drive our real-time animation did not have the ability to transition between different environments seamlessly. I developed a solution that allowed for real-time switching between two Motionbuilder systems running in real-time.
Cirque Du Soleil: KA
I provided consultation and training to the Las Vegas based Cirque Du Soliel show Ka's Lead Projectionist Davin Gaddy and his lighting and projection staff. Our goal was to ensure that their Isadora media server would perform at the highest possible quality when replacing the show's final battle scene with a prerecorded projection.
While in Las Vegas, I led a one-day workshop on the use of Isadora media server software that was attended by senior lighting and projection staff from multiple Vegas-based Cirque shows.
Creator and director Robert LePage
Interactive projections by Holger Förterer
 
The Invisible Library: A Forest of Information
This interactive installation used a legally approved log of realtime library network activity produced by the otherwise invisible users searching and retrieving information on its networks.
Visitors to the Thompson Library had this activity revealed to them though an interactive projection displayed near one of the Library's main walk ways. It incorporated a passive display mode showing a graphic forest of trees slowly growing and evolving over time. In its active mode users are able to reveal an ever updating visualization describing the number of scholarly articles and their disciplines and sub-disciplines headings as served by the library..
This was a fun and unique interdisciplinary and cross-university collaboration.
I designed the human computer interface and underlying data visualization software along with a set of automated and remote maintenance features in order to minimize system downtime.
I collaborated with Thompson Library Exhibit Coordinator Erin Fletcher, Assistant Professor of Computer Science and Engineering Arnab Nandi and Associate Professor/Head of Research Services, Meris Mandernach to develop this exhibit.
 
video by Arnab Nandi
City of Angels
This production of City of Angels was a collaboration between OSU's Department of Music and Department of Theatre.
For this production, I produced a cinematic opening video and a series of rear projections providing environmental support for the various locations visited during the story. I also designed and programmed the Watchout media server used to cue and playback media content.
This was a single-channel video system programmed with Watchout.
Photo by Mathew Hazard,
2014
City of Angles: Opening
Working closely with the director I produced this cinematic opening for OSU's production of City of Angles. The video was projected on a movie screen beginning when the house opened for seating and continued during the live overture. Once the overture was completed, the screen was flown out, revealing the set. At the end of the musical, a traditional list of cinematic credits was projected on the same screen used at the beginning of the show.
Good Kids
Playscripts Blurb:
"Something happened to Chloe after that party last Saturday night. Something she says she can't remember. Something everybody is talking about. Set at a Midwestern high school, in a world of Facebook and Twitter, smartphones and YouTube, Good Kids explores a casual sexual encounter gone wrong and its very public aftermath. Who's telling the truth? Whose version of the story do you believe? And what does that say about you?"
I was responsible for system design, technical aspects of projection, and programming. I devised a three-channel blended projection system with three live video feeds programmed with Watchout.
Photos by Matt Hazard
Driving Home
I recognized the production would lend itself to a cinematic story telling style.
This idea was embraced by the director, set designer, and larger design team and I worked closely with themto find ways live camera work could be incorporated into the design and staging of the play. Set designer Brad Steinmetzconceived a wonderful set that provided a short and wide cinematic type image while incorporating an ever present horizon to evoke the play's setting in a small Ohio town.
The performers embraced the challenge of changing between moments of acting directly for the audience and moments of acting for the camera.
One camera, mounted inside of the truck, provided extreme and medium closeups of performers sitting in the cab and occasional hints of an audience member in the far distance.
A pan-tilt zoom security-type camera installed in the lighting grid allowed for the framing of extreme closeups and wide shots of the stage from a very high angle.
Hacker
The play includes a character named Deidre who hacks into the social media accounts of the rapists and exposes the coverup perpetrated by the adults in the play to national media.
Deidre releases two videos in the style of Anonymous during the course of the play.
Because it helped create the visual aesthetics of social media and web video, I incorporated a third live video feed from the character's laptop.
Live Video Mixing
In a moment focused on social media and the appropriate consequences for its abuse, approximately 7 minutes of original hand-animated content is mixed with a live video feed of the hacker character, Deidre.
Terra Tractus: The Earth Moves
Produced in the summer of 2014 by Projects2k.org, Terra Tractus: The Earth Moves was a "dazzling performance experience that brought together lighting, projections, lasers, music, dance and rock climbing to immerse and amaze audience members with the beauty of our natural world."
I was brought in to help complete the media creation and cuing of an hour long original video. I animated, edited, and finished content that had been in process and created original content that was incorporated into the show. I also consulted on the media system's final programming and cuing system.
This was a three-channel blended projection system with realtime video mixing and was programmed in Touch Designer.
"As a design we strove to create something that sat at an intersection of stop motion models and digital geometric forms. . . . The blend of real and digital feels at home with this show, and gives the projection a slightly modern flavor. During our short preproduction period we recruited Alex Oliszewski to help us with the monumental task of completing all of the animation and editing work for the show.
"The three of us have previously worked on Wonder Dome which had left us with an established rhythm for collaboration. . . . We also spent a good piece of our time continuing to make content while we were away from the site. Because of the fluid nature of the show it quickly became apparent that a traditional cuing system might not be the right fit for this production. The media needed to feel more like an instrument than like a fixed volume. This caught all of us slightly off guard and required that we make some changes to our plans for creating media and controlling playback."
- Matthew Ragan
Excerpt from: http://www.citytheatrical.com/terra-tractus-temp
Continental Drift
An animation sequence showing the constant reformation of the Earth's plates and continents.
The show was scored live by Istvan Peter B'Racz.
Poses Plastiques
I helped to design and establish specifications for a photo-booth type installation that allowed participants to take a photo of themselves within a projection of an antique "Poses Plastiques" slide.
I designed both the physical setup of the booth and created a system that allowed users to switch between a number of different slides and provided the option of having a photo emailed to them.
This installation was part of a larger exhibition presented at the 2014 conference of The United States Institute for Theatre Technology (USITT).
This was a single chanel video installation with an interactive component that stepped through a selection of archival images and snapped photos of participants.
For more information about the TRI exhibition: https://library.osu.edu/blogs/theatre-research-institute/2015/04/01/tri-theatre-tech-exhibit-usitt/
Poses Plastiques: USITT, TRI & OSU Theatre
I consulted and design the technical aspects of this installation.
Student, Zac Cooper, appears "in his boudoir" courtesy of the interactive pose slide board
image from: https://library.osu.edu/blogs/theatre-research-institute/2015/04/01/tri-theatre-tech-exhibit-usitt/
Forbidden Zones
This was a new work, conceived by the director Leslie Ferris and devised by her and a cast made up of OSU Department of Theatre undergraduate and MFA performance students.
I joined the production approximately a year before opening and held regular meetings with the director consulting on the progress of the content and details of the emerging performance. The show and its design were inspired by Epic Theatre and incorporated both documentary imagery and simple text subtitles describing location, character names, passage of time, to punctuate the deaths of certain characters, etc. Moments of using high resolution stock footage and self-produced animations were used to punctuate battle scenes, and the burning of some of the old photographs used in the media.
Pictured here media is supporting the gestural recreation of a historical mural memorializing WWI.
This was a three channel blended projection system programmed in Watchout.
In The War Office
Historical images, super-titles, and custom produced content are used to support the dramatic action, emotional shifts, and environments of the play.
Wonder Dome
A cross university production between ASU and OSU.
Directed by Daniel Fine
Media Design by Alex Oliszewski
Lighting Design by Adam Vachon
Programming by Matthew Ragan
Sound Design by Stephen Christensen

Professional/Advanced Research, 2012 - present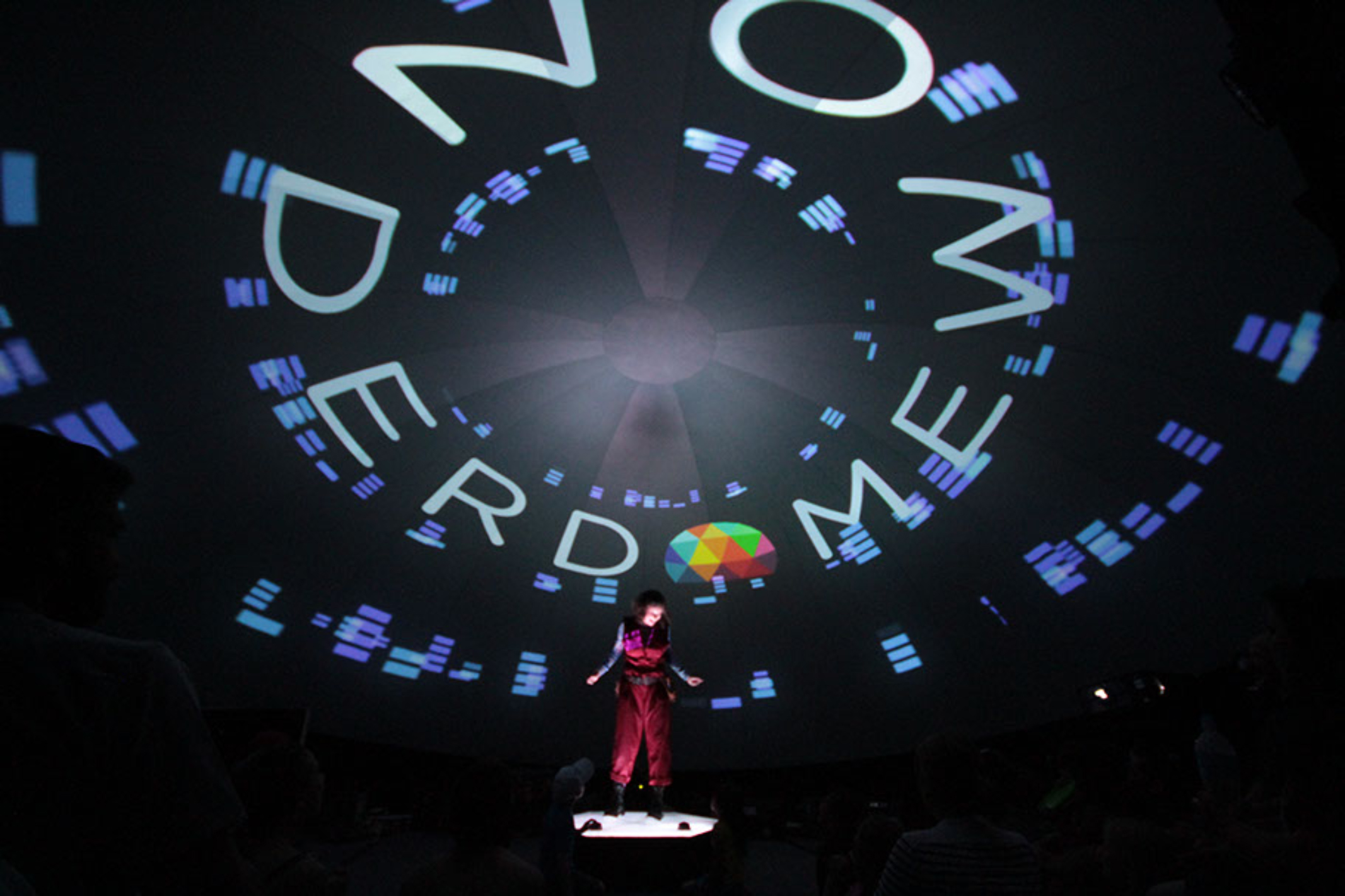 The Chiller Plant
Developed of architectural projection curriculum and led a group of students through the process of designing and creating content for public installation on the north face of OSU's South Chiller Plant. A collaboration between the departments of Theatre, Architecture, and Design. Funded by a BETHA grant led by Mary Tarintino.
Curriculum/Public Installation,
2013
The Visit
Produced by Ohio State University's Department of Theatre
Written by Friedrich Dürrenmatt
Translated by Patrick Bowles
Directed by Lesley Ferris

OSU Theatre,
2013
There Is No Silence
Full Credits:

Conceived and Directed by Jeanine Thompson
Script by Jennifer Schlueter
Media Co-Design by
Alex Oliszewski
Media Co-Design by
Vita Berezina-Blackburn
Associate Media Design by
Janet Parrott
3D Animations by
Sheri Larimer, Tom Heban,
and Steven Conroy
Co-produced by
OSU's Department of Theatre
and ACCAD
Research/Academic Design,
2014 - present
Cirque Du Soleil: KA
Technical Consultation/Training,
2014
Invisible Library
Interdisciplinary Collaboration/Media Installation
Thompson Library, OSU. Columbus, Ohio
August – December, 2014
City of Angels
Directed by: A. Scott Parry
Music by Cy Coleman
Lyrics by David Zippel
Book by Larry Gelbart
OSU Department of Theatre and School of Music,
2014
Terra Tractus: The Earth Moves
Produced by Projects for a New Millinium
Creative Director Joy Wulke
Directed by Tom Burnett
Musical by Istvan Peter B'Racz
Media Design by
Daniel Fine, Matthew Ragan
Media/Projection Asst. by
Alex Oliszewski
Choreography by Nazorine Ulysse
Lead Climber/Sculptor
Silas Finch
Professional Associate Design,
2014
Theatre Research Institute: Magic Lantern & Pose Plastique
Curated by Beth Kettleman
Mary Tarintino

Consultation/Installation, 2014
Forbidden Zones
Directed & Conceived by
Lesley Ferris
Devised New Work

OSU Theatre, 2017